Corporate News
15th May 2019
Sunbury, WE WILL ROCK YOU!!!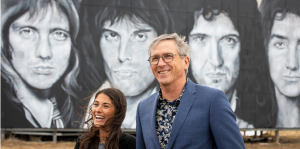 Villawood Properties has collaborated with world recognised street artist Danielle Weber to unveil an epic mural of Queen in Sunbury.
The 16 x 8m canvas is on the side of the Redstone Sales Office, facing Sunbury Rd with exposure to 18,000 motorists daily.
"This is a fantastic opportunity for any artist and I really appreciate Villawood trusting me with the scale of the mural knowing it's the biggest one I have done so far." Ms Weber said.
Queen was chosen as the subject of the mural, given the band's controversial performance at the Sunbury Music Festival in 1974 and their recent resurgence in the public's imagination.
Villawood Properties executive director Rory Costelloe said the mural was aimed at sparking plenty of conversation.
"Art provides a genuine opportunity to connect, promote thought and inspire, which the team at Villawood believes to be necessary for creating thriving and vibrant communities," he said.
"That's what this 'community canvas' is about."
As seen in the Sunbury Leader, Herald Sun and on Channel 7 News.