Community News
18th March 2019
Speak up on mental health, #YouCanTalk, says big cat Mark Blicavs
Geelong Cat Mark Blicavs is throwing his weight behind the #YouCanTalk campaign to help counter Australia's suicide epidemic.
The Geelong Cats' reigning best and fairest – and ambassador for the region's Read the Play mental health initiative – took to the Geelong Ring Road hills at Wandana today to to increase the understanding around mental health issues.
Blicavs launched developer Villawood Properties' giant letters #YouCanTalk to highlight a national campaign by suicide prevention agencies from beyondblue to headspace, R U OK and Black Dog Institute.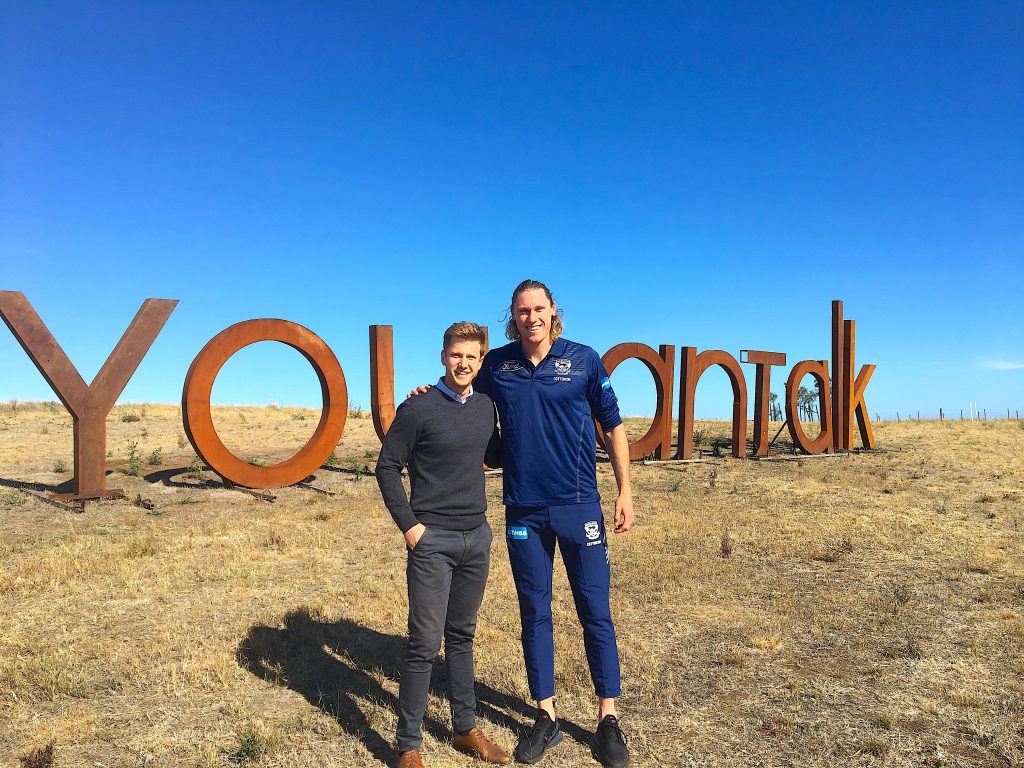 "Mental health is one of the most common issues facing young Australians, and initiatives like Villawood Properties' #YouCanTalk letters, and Kempe's Read the Play support our community through raising awareness and understanding of mental health and well-being," Blicavs said.
"By following programs such as Read the Play, young adults feel they can begin to speak about mental health, and even more than ever, they are becoming more comfortable in offering support to someone who may have a mental illness.
"It's hard to speak up about mental health, but initiatives like these take us one step closer to solving this issue." Blicavs said.
The Geelong Ring Road letters were erected by Villawood following the sudden loss of its chief executive officer, Phil Hanna, to draw attention to the importance of encouraging people with mental health difficulties to speak up.
"We lost our CEO at Christmas time, I'd known him for 30 years," Villawood executive director Rory Costelloe said.
"He was strong, fit and healthy, and someone who you'd never assume to have any problems like this. It just highlights the importance of people realising that they can reach out and ask for help without it being seen as a sign of weakness.
"Following Phil's loss, it has been amazing how many others in the industry have come forward sharing their issues with depression. It's been quite incredible and really highlights the importance of seeking out help if you need it."
Mental health agency headspace threw its support behind the Wandana hillside #YouCanTalk letters as well, with chief executive officer Jason Trethowan urging people with difficulties to seek assistance.
"It's fantastic to see Villawood Properties and the Geelong Cats supporting the community to talk about mental health, specifically suicide," Mr Trethowan said.
"You don't need to be a health care professional to check in with someone you are worried about. Trust your instincts and access the suicide prevention resources to assist you in having the discussion."