Corporate News
8th June 2022
e-Scooters, e-Bikes, Better Lanes for CBDs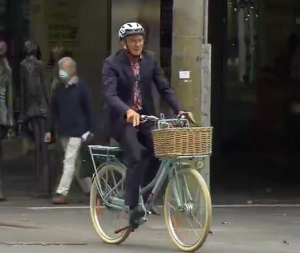 Villawood executive director Rory Costelloe believes that with some with some commonsense treatment, bike lanes, e-scooters and e-bikes
can be valuable additions to inner-city transport infrastructure. Here's his latest from the Geelong Advertiser.
A SHARED e-scooter scheme could be rolled out through Geelong's CBD if an existing statewide trial is deemed successful.
Geelong Authority board member Rory Costelloe said shared electric scooters could be a "major game changer" and drive more people to use alternative transport methods.
He said e-bikes and scooters should be seen as a "real solution" to encouraging people who are not strong cyclists to try out other more sustainable transport options.
"Hire e-scooters are not cheap but they're cheaper than Uber," he said.
"At around 50c a minute, they're not realistic for longdistance commuting but certainly are for short distances.
"They're far more economical and quicker than travelling by taxi, Uber or tram."
The State Government is currently conducting a 12-month electric scooter trial across Ballarat and three metropolitan council areas.
Mr Costelloe said cars were increasingly difficult to accommodate in city centres with commuters also wanting more sustainable and convenient alternatives.
"E-transport offers all of the above," he said. "We just need to ensure regulations are practical and safe to ensure public confidence in these modes of transport."
Mr Costelloe said encouraging and subsidising those trials would lead to better regulation and to e-scooters and e-bikes being adopted as part of a normal life, rather than seen as a novelty.
City of Greater Geelong director of city services Guy Wilson-Browne said a range of authorities, including police and VicRoads, were helping the government test what road regulations would be required to safely fit the vehicles into the Victorian transport network.
"Only e-scooters supplied by approved operators are permitted for use in the trial, with private e-scooters still prohibited on public roads and roadrelated areas," Mr Wilson-Browne said.
"We are excited by the potential expanded use of e- scooters, and are awaiting feedback and the results of the trial with a lot of interest.
"We are investing in new bike paths, footpaths and shared trails to support an increase in the amount of people using active transport."
The Government is expected to evaluate the existing trial and determine if e-scooters can be integrated into the wider transport network.
Under the trial, the Government can restrict e-scooter speeds and locations. Use of private e-scooters is illegal in Victoria and can attract fines of up to $909.
"We're working to make our roads safer for everyone, whether you're travelling on a bike, scooter, walking or driving," a government spokeswoman said.
"Victoria's e-scooter trial is progressing well, with over a million rides taken since it began in December 2021.
"Most riders are doing the right thing and penalties are in place for those breaching the laws.
"We will continue to work with Victoria's road safety partners, including Victoria Police, to monitor any emerging issues related to powered scooter or bikes on the network."