Community News
6th June 2022
Alastair's Out-Running Blood Cancer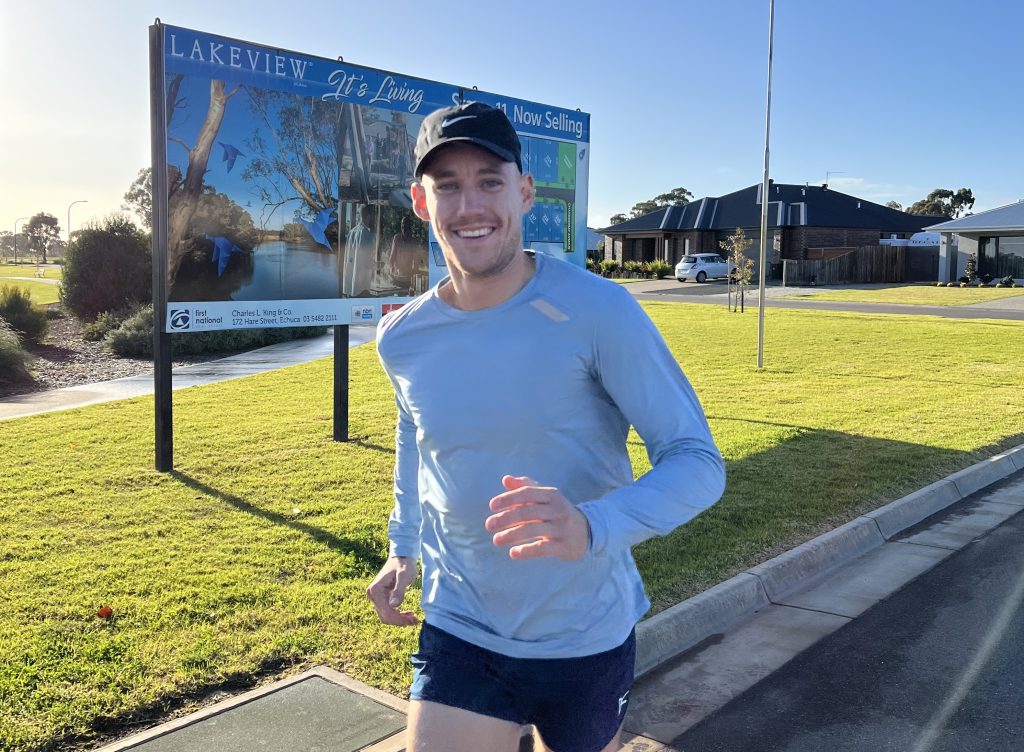 Donate at fundraising.snowdome.org.au/my-fundraising/22/the-positive-journey
Alastair Evans is running to honour his Mum's life and he wants everyone to know. He is running from Melbourne to Echuca in memory of his mum, Sally, who passed away from the blood cancer multiple myeloma.
The arduous journey will replicate the many trips she made between Echuca and Melbourne for various treatments she received over 19 years.
Alastair is raising funds and awareness for the Snowdome Foundation, a not-for-profit founded by his Mum's doctor, Professor Miles Prince. He is training hard for the big day and can be seen regularly pounding the pavement in his hometown Echuca.
With the support of family, friends and the wider community, he has already raised more than $50,000. Villawood is helping sponsor his efforts.
"I'm not a professional runner by any means so it won't be easy," Alastair says. "But I'll be thinking about her the whole time and that will give me strength. A few days of discomfort is nothing compared to what she went through over the years.
The entire run takes in 250km over four days, via Lancefield, Heathcote and Rochester. It will begin in Melbourne on Wednesday 15 June and conclude in Echuca on Saturday 18 June.
"I'll run a similar path that Mum took for many years, passing through towns going through the Great Dividing Range but avoiding main roads and taking gravel and dirt roads instead. We're a tight-knit family and they'll all be cheering me on in her memory.
"My grandfather – Mum's Dad – has been appointed the team captain and will be in the support vehicle behind me with food and water to keep me going. He is 86 years old, so it will be quite a feat for him."
Sally's story, sadly, is not uncommon. Due to nothing more than bad luck, she was diagnosed with multiple myeloma and her world changed in an instant. At age 31, she was one of the younger patients to be diagnosed at the time and her family went into shock.
Many blood cancers are considered incurable and Sally was given three to five years to live. Incredibly, thanks to the ground-breaking treatment and clinical trials, she was able to enjoy another 19 years with her family.
Prof Miles Prince founded Snowdome in 2010 to collaborate with world-leading researchers and accelerate new therapies and next-generation treatments for Australian patients. Cancers of the blood – leukaemia, lymphoma and myeloma –are the second most common cancers in Australia and one of the leading causes of cancer deaths.
"Prof Miles and the team at Peter Mac made sure that Mum had access to an amazing range of treatments to give her options to manage the disease and enhance her quality of life," Alastair says.
"She took part in several advanced clinical trials over the years, and she was always grateful to have the opportunity. It was remarkable how she looked at every trial and every setback with a positive mindset. I can honestly say she never let us kids see that she may have been sad or afraid."
"I'm calling the run 'The Positive Journey' in honour of Mum's strength and bravery. Positivity was something she instilled into us from when we were very young and it's how she always lived her life. She made it her mission to stay positive and to protect the ones she loved from sadness or worry. The last thing she wanted was to make it any bigger than it needed to be.
"The plan is, when I get to Echuca on Saturday, I will run past Mum at the cemetery and into the Port of Echuca, where we held her wake in 2016. I'll then cross the finish line alongside my father, brother and sister."
A post-race event will be held at Echuca's American Hotel on Saturday 18 June, with proceeds going to the Snowdome Foundation.
Tickets: stickytickets.com.au/whocn/
Donations: fundraising.snowdome.org.au/my-fundraising/22/the-positive-journey
More information: fundraising.snowdome.org.au/