Community News
16th June 2020
Waurn Ponds Station Upgrade

One of the great beauties of Villawood's Armstrong Mount Duneed, and there are a few, is the ready  access it offers Melbourne commuters and others using rail services.
The Waurn Ponds Railway Station on Armstrong's northern edge is an ultra-handy convenience few other developments can offer. With PTV bus services running through Armstrong every 30 minutes, it's a key player in making work easier, travel quicker and your lifestyle better.
With some significant new additions to the station, starting this month, that rail amenity is about to get even better.
A new platform and overpass, an extra track to avoid delays, more and better car parking, and enhanced safety measures will all add up to a smoother, more comfortable travel.
Armstrong's proximity to the Geelong Ring Road and its traffic light-free travel to Melbourne means residents have two easy options for their work commute as well as stone's-throw access to the lifestyle options of the Surf Coast and Great Ocean Road.
Seriously, where else can you get that kind of deal?
Thing about it: Premium affordable land, beach and regional city lifestyle, you can work from home a few days a week and commute the others.
And it's just going to get easier with these rail upgrades and more on the way.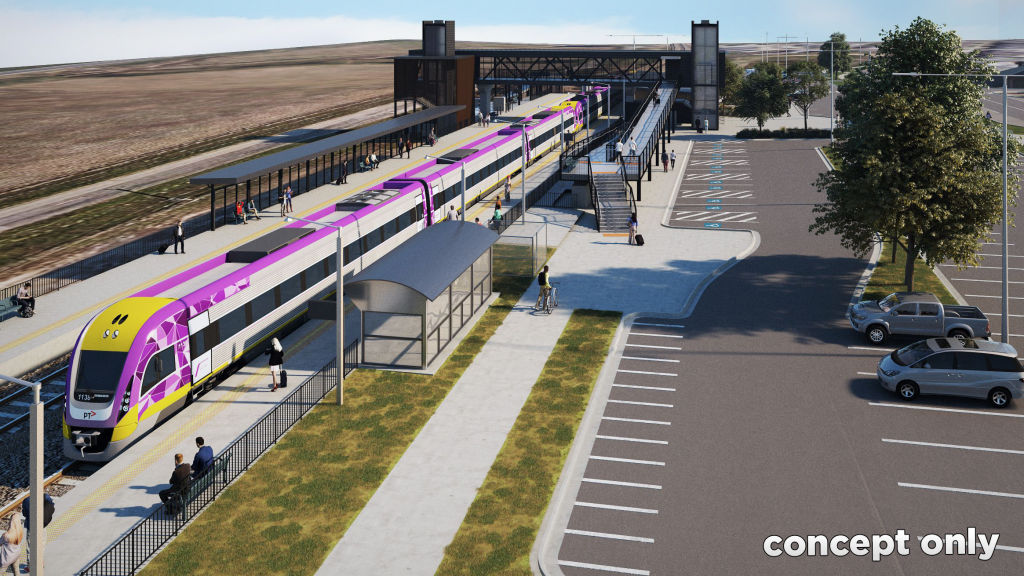 BENEFITS
So what are some of the key benefits of taking the train to Melbourne?
We asked our own Graeme Quin, a regular rail commuter between Armstrong and Melbourne.
"Waurn Ponds is a great station to start my journey to work," he says. "It's close to home at Armstrong, and I can choose my favourite carriage and seat.
"Using the train opens up opportunities to work and/or read or just relax during my journey to work
"Using the train is much, much greener than driving and it's great to include some daily exercise in the journey to work.
"This year, I started riding my bicycle from home at Armstrong to Waurn Ponds Station.
"When I reach the station, I can choose between using the secure parking, or putting my bike on the train to zip around Melbourne at the other end."
The upgrade is about to begin! Its great to see what the new and improved Waurn Ponds Station will look like when the project is finished. I can inform the Geelong community that the Project Proposal Report on the Duplication of the track between Waurn Ponds and South Geelong has been submitted to the Commonwealth Government. I look forward to the Commonwealth reporting back to the Andrews Government in the next few weeks so this project can proceed. Geelong Advertiser K-Rock / Bay FM City of Greater Geelong Surf Coast Shire Council G21 Geelong Region Alliance Committee for Geelong 3216 Online Community Breaking News Geelong & Surfcoast SURFCOAST COMMUNITY 🏄☀️ Surf Coast Times Gayle Tierney MP Christine Couzens MP Libby Coker MP John Eren MP Richard Marles MP

由 Darren Cheeseman MP 發佈於 2020年6月11日星期四
More info – https://regionalrailrevival.vic.gov.au/geelong/waurn-ponds-upgrade