Corporate News
17th June 2020
AQUAREVO: BUYING ONLINE'S AN EASY OPTION
The Covid-19 lockdown has brought plenty of home truths into focus.
Working from home and home schooling, in particular, have highlighted for many parents just exactly what needs doing around the house.
With space at a premium, and energy utilities on high rotation, the pandemic has also brought climate considerations into sharp relief.
For parents such as Brad and Emma Andrews – a teacher and social worker, respectively, and parents of two-year-old Leo – it's put their build upgrade plans on fast-forward.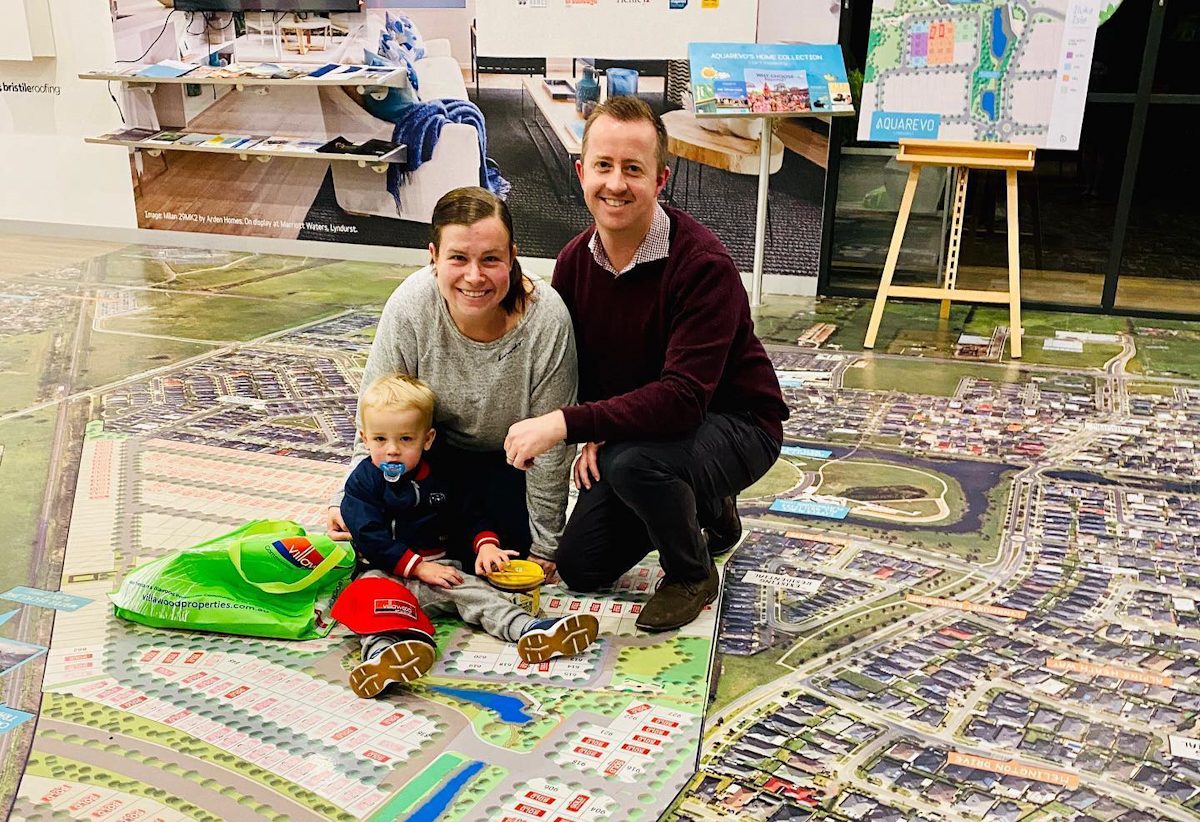 Even with just one child in their four-bedroom home at Lyndhurst's Marriott Waters, space had been at a premium for a while.
The rooms were utilised as a master bedroom, young Leo's room, a spare for Emma's visiting NSW parents and an office. It meant the main living area was increasingly becoming the play area. Time for something bigger.
But after 10 years in Lyndhurst, the Andrews were reluctant to move too far. They eyed the emerging development next door, the sustainability-focussed Aquarevo.
It might seem an odd confluence but the corona, construction and climate trifecta is clearly a harbinger of things to come. As Brad explains:
"When we built at Marriott Waters, it was all about greywater and savings. Now, at Aquarevo, it's more advanced; sophisticated new water-use technology and major energy savings.
"The lockdown kind of reinforced that it was time to upgrade. It was the kick in bum we needed. We needed extra living space."
And they liked Aquarevo's sustainability creds and enhanced ongoing savings they'd been able to achieve at Marriott Waters.
Aquarevo, developed by Villawood Properties, enjoys the current Urban Development Institute of Australia Victorian Environment Excellence award. Its water and solar technologies offer up to 70% water and 60% energy savings.
In the same way Covid's highlighted the lifestyle benefits, and savings, of working from home, so too has Aquarevo's online sales process pointed the way to the future.
Brad and Emma were the first to buy online at Aquarevo. What they thought might be a little challenging in fact proved easy.
"It was different, though, in that it became a bit like an online auction, Brad says.
"Lot 623 had gone on the Saturday and we were keen on Lot 624, a middle one. I checked it on Sunday … got a rundown of what we'd get.
"But when I checked on Monday, it was gone. I thought, 'We're going to have to act', so we did. On the Monday night, we grabbed Lot 625.
"It was done very easily, I felt it was secure, I had no reservations, no concerns, about the money transaction.
"We placed the deposit online then I got a phone call the next morning from the sales manager at Aquarevo congratulating me."
Could hardly have been easier, really. And all from the comfort of home.
Welcome to the future today, an unexpected upside of the pandemic. One.
Brad had one word of caution, though, for online buyers.
"My recommendation is line your ducks up first. If you don't have your deposit ready to go, you'll miss out."
Good advice. And keep safe.