Corporate News
22nd February 2021
Villawood Properties' Alamora First Release a Sellout Despite Lockdown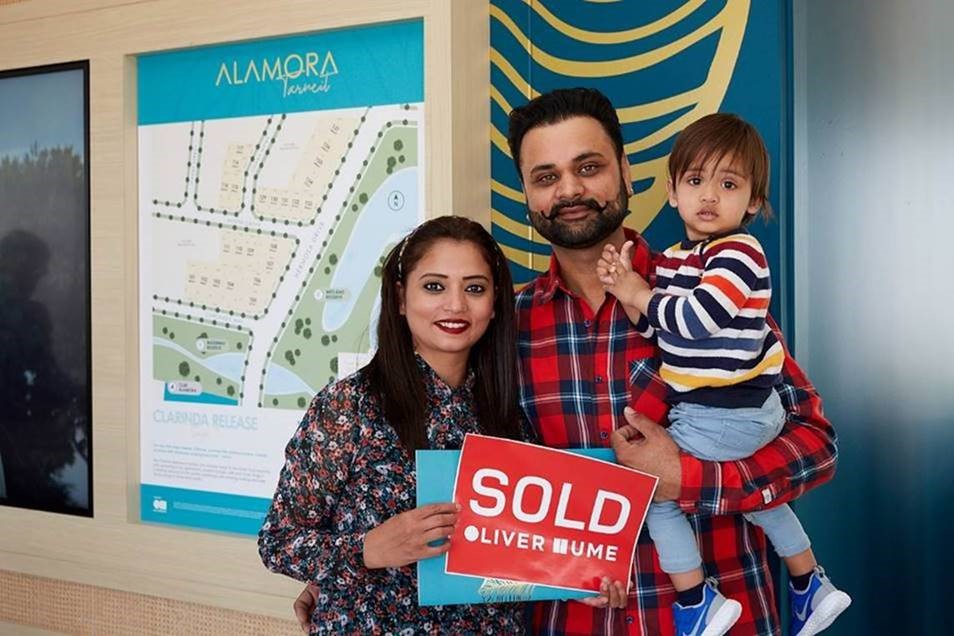 The first release of Villawood Properties' new Tarneit flagship Alamora was a sell-out with a rapid transition from face-to-face to online sales in response to Victoria's sudden COVID lockdown.
A total of 35 lots were snapped up by eager buyers after an almost overwhelming surge of hundreds of pre-sale inquiries in the past fortnight.
Villawood fast-tracked more than a dozen sales to campers who arrived at Alamora's Sayers Road Sales Centre in preceding days to secure their dream lots, before taking deposits online for the balance of lots on the Saturday.
Prices for the 221sqm to 597sqm allotments ranged from $229,900 to $420,900.
The premium 2000-lot master-planned Alamora is Villawood's fifth new project launched in the COVID era. Its rapid-fire sales performance reflects a powerful booming market and pent-up demand for lots in the popular Sayers Road precinct.
Tarneit is Melbourne's fastest residential growth corridor and no longer considered greenfields but rather infill. With a world-class A-League soccer stadium and major shopping centre to be built right beside Alamora, the project is poised to be one of the most highly-sought ever in the city's west.
Alamora is the latest of eight communities by Villawood Properties within the City of Wyndham. With 4000 families – 10,000 people – already installed, Villawood is the clear developer of choice within the corridor.
Alamora is a sister to Villawood's national UDIA excellence-awarded Alamanda, at Point Cook. It will host all Villawood's signature hallmarks – an $8 million resort-style residents' club, diverse housing choice, broad open space and parks, dynamic public art, premium landscaping and the West's largest display village. It will also feature top-end quality homes and sophisticated built form townhomes by leading contemporary architects.
More than 200 inquiries flooded sales staff in the week leading to the sales office launch at Alamora. A weekend pre-sales opening saw more than 160 interested groups through the door, reflecting enormous market demand.
"The response Alamora has attracted is very significant," Villawood Chief Executive Officer Alan Miller said. "Alamora is a very exciting project for Villawood and will set a new standard for this corridor.
"We're planning a new residents' club which will serve as a key player in bringing people together. These clubs, with their gyms and pools, cafes and courts and function spaces, have proven time and again to be something people really like.
"It's also an important part of our focused national growth strategy and it's a project which will allow us to raise the bar, yet again, in the standard of Australia's community residential living."
Key attributes at Alamora include proximity to Melbourne, multiple planned retail, community, sporting, education and recreation facilities, and proximity to the rugged beauty of the Werribee River.
Executive Director Rory Costelloe said buyers could be confident about Villawood's early delivery of signature amenities such as the residents club, outstanding landscaping, playgrounds and sports reserves, as well as their ongoing maintenance.
"Villawood has already delivered seven communities in the region in the last 20 years," he said.
"These include Alamanda which, with its outstanding reputation and highly sought-after school, brought affordable luxury to Wyndham.
"This will be the fifth project Villawood has developed on Sayers Road. We have really shaped the appeal of the region. The knowledge and experience we've gained from all of our residents' clubs in Melbourne and Geelong will go into making this club the biggest and best ever."
Fellow Villawood Executive Director Tony Johnson said the new Tarneit project was a statement of Villawood's confidence in its product and in the market's underlying strength.
"We believe the scope for innovative, quality residential growth across Melbourne, Victoria and indeed Australia, is undiminished by the current economic difficulties," he said.
"We're the only developer to launch five new developments during the COVID lockdowns and the market has responded more favorably than even we'd hoped.
"We've pushed forward with our construction works, with new stage releases across different projects, and similarly we're pursuing new acquisitions."
Villawood boasts a raft of national, state and international industry awards, plus a reputation for delivery, innovation, community assets and philanthropy.