Community News
5th July 2021
The Surrounds Perimeter Park Now Complete And Ready To Explore

The final piece of The Surrounds' Perimeter Park is now officially complete finalising more than 23 ha of dedicated open space and recreational amenities for our residents to enjoy. We are proud of the wonderful cross-section of parks and recreational spaces now in action within The Surrounds, with each element specially crafted to enrich and enhance the lifestyle and wellbeing of our community.
The completion of Perimeter Park gives our residents access to 2.5 km of footpath and paths designed to meander throughout the perimeter of the estate. Not only is Perimeter Park ideal for walking, jogging, or cycling, it also encourages a sense of exploration and connection with the surrounding local flora and fauna that inhabit the area.
With all green space and parks now complete at The Surrounds our community features a total of three parks including the 7,300 sqm Central Park complete with flat kickaround areas, shade, BBQ and seating, along with a state-of-the-art playground with equipment designed to challenge kids and encourage exercise.
Celadon Park is also a crowd favourite consisting of 2,649sqm and complete with more kickaround areas plus shade and the iconic learn-to-ride bike track which helps educate our younger residents about road rules. There is also a fully-equipped playground kitted out with all-abilities equipment. 
The popular 1,628 sqm neighbourhood park with natural play elements constructed from recycled vegetation along with shade and a kickabout area is also a welcome addition.
Of course, we haven't forgotten our furry, four-legged residents with a generous 1,300 sqm off-leash dog park. Perfect for pooches to play and tumble, and burn off excess energy, the dog park is adjoined by a playground featuring natural play elements including steppers and seats made from repurposed tree trunks and logs from the vegetation clearing phase of the development.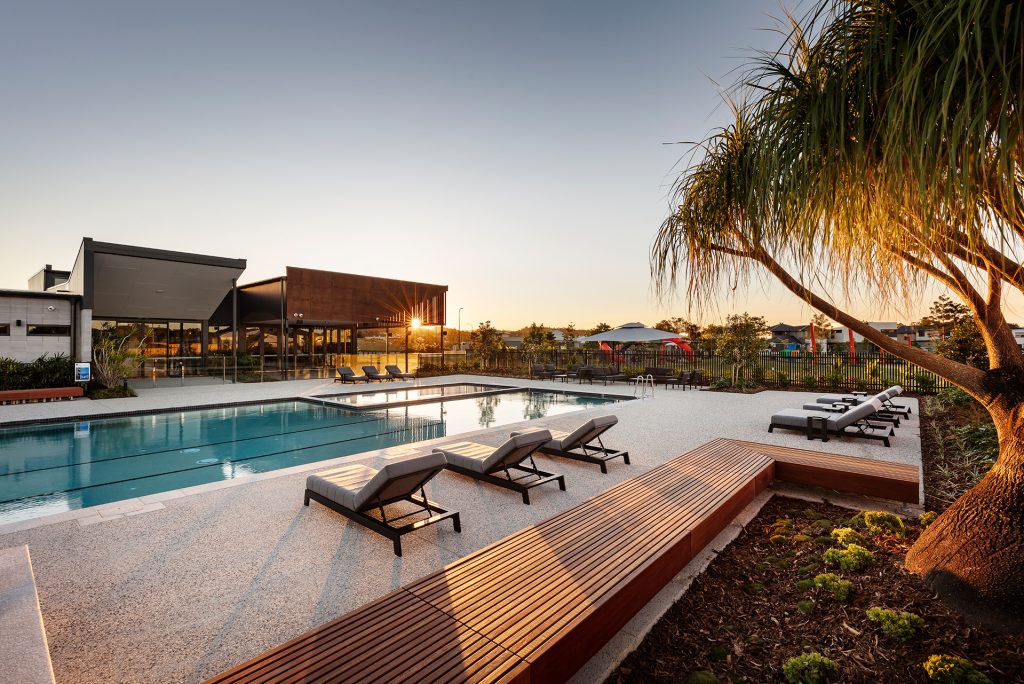 The cherry on the top of The Surrounds' offering of lifestyle amenities is the resort-themed Leisure Centre which offers 700 sqm of exercise and leisure facilities including a gymnasium, heated 25-metre lap pool and a children's wading pool. The Leisure Centre is also home to our favourite local coffee haunt, Funnybone Coffee.
With more than 30 per cent of the development dedicated to parks and open space, The Surrounds is the perfect setting to enjoy an active and healthy lifestyle.