Community News
15th April 2019
The Brownhill Legacy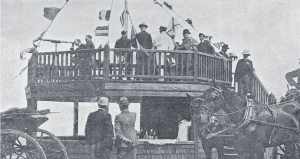 The Brownhill Legacy
They were war heroes, editors, printers, historians, philanthropists and a Geelong business and media institution for years.
Now, the Brownhill family name is commemorated atop the best vantage point above Geelong, a stone's throw from the park and lookout they donated to the city more than a century ago.
Brownhill Ridge in Villawood Properties' Wandana community commemorates journalists Walter Randolph Brownhill, and George Harrington Brownhill, who edited the Geelong Advertiser between 1929 and 1951.
It's also a tribute to their father, John Cochrane Brownhill, who founded the J.C Brownhill and Sons printing firm in 1899 and gave Geelong a Ceres public park in 1907, then known as Panamora Heights.
Walter is perhaps the better remembered because he penned the definitive story of Geelong's founding in his 1955 door stopper, The History of Geelong and Corio Bay. 
The book is a bible in terms of reference to the foundation, growth and development of Geelong's settlement. It was dedicated to his father, as well as his mother and sisters.
Walter was also a World War 1 hero. He enlisted with the AIF in 1915, shortly after the disaster of Gallipoli. He was mentioned in dispatches and received the Meritorious Service Medal.
He was a journalist and a public benefactor, edited the Geelong Advertiser from 1938.
Walter worked with the Brownhill printing firm, as did his four brothers, including George, who preceded him in 1929 as editor of the Geelong Advertiser. George was the papers first Geelong-born editor but died suddenly in 1938.
Born in 1885, Walter was educated at Flinders School and a prominent junior footballer. As a journalist, he worked as chief sub-editor of Melbourne's The Argus before taking up the editor's role at the Geelong Advertiser. He was considered a versatile journalist and his editorial opinions were noted for their sound reasoning, lucid expression and humanitarian outlook.
The Advertiser made steady progress under his leadership despite restrictions imposed on development during and after World War 2.
The name Walter Randolph Brownhill, because of his history tome, has long been a common catch-cry by researchers and genealogists looking into Geelong's past.
Another former Geelong Advertiser editor, Jack Henry, called Brownhill's account the "only comprehensive review of Geelong history published in book form".
"In the first place it was intended to perpetuate, in a form convenient for the public, the story of Geelong in it's infancy," Henry wrote in the book's foreword.
"In the second place it was to serve an expression of gratitude for a lifetime spent in an honest and fair city".
Yet another Geelong Advertiser editor, Daryl McLure, writing the foreword for an updated edition of the book in 1990, said the work was "a wonderful legacy to the people" of Geelong.
"Few regions of Australia can have blessed with the good fortune of giving birth to a man such as Brownhill, who left future generations with such a meticulous and detailed history of its first 115 years," he said.
Walter Brownhill died in 1964 but his name has lived on and continues to do so with the new Brownhill Ridge, one of the main thoroughfares in Villawood's Wandana community.
The street sits on the highest point overlooking Geelong, with panoramic views across Geelong, Corio Bay, the You Yangs, Melbourne, the Otways hinterland, the Bellarine Peninsula and the Bass Strait.
He might have departed this mortal coil but Brownhill is still overseeing his esteemed Geelong from on high.
-Noel Murphy