Innovation
13th October 2021
Cockies, Eagles and Folko's Villawood Art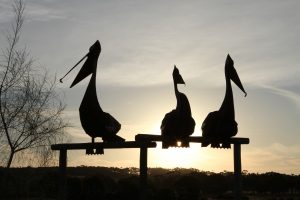 Giant metal cockatoos, eagles, butterflies, dragonflies, pelicans, sunflowers, leaves … the numerous arresting sculptures you'll find peppered through Villawood's communities are testament to the inspired creativity of artist Folko Kooper.
The artworks, many in the rough, ferrous-coloured medium of corten steel, draw on native fauna and flora found locally. Many reflect underlying heritage elements or social characteristic, such as immigration or a previous life as an airport specific to a community.
Collectively, Folko's works are a Villawood signature pointedly focussed on connecting the community. The tiny wrens, the lyrebirds, emus, falcons, ibis, platypus, peacocks, sunflowers and seemingly whimsical works such as shoes, luggage, water-taps and beehives hold great significance to how we live and interact with nature, with one another, how we acknowledge indigenous values, and how communities grow and mature.
Villawood's public art program is a key part of its community connection imperative. The works serve several purposes: to generate an interest in nature among young people and adults alike, to help deliver a sense of place and pride in the community, to work as community talking points and, of course, as whimsical, fun, works of art proper.
Art is an effective long-term tool in helping develop a sense of community which intersects with other more physical connections Villawood strives hard to achieve through its innovative multi-function residents' clubs, its extensive playgrounds and parks, its walking/cycling trails and broad open space. Bringing people together in the greenfields is an essential part of building sustainable ties where neighbours look out for each other, form networks and interest groups, and develop a strong and purposeful sense of community.
Folko researches the nature and history of the locations where his works are installed, developing his ideas with experts and story-tellers. His works then tell their own, evocative, stories.
"I try to make them site-specific in a way that speaks to young and old, and has an element of fun and artistic merit," he says. "Like the pelicans, they're funny things, and they engender curiosity in the environment and in art. I built the eagles after sitting down with the Aboriginal representative who explained that the eaglehawk is the totem of the original locals. I try to have the bird species based on some research to see what is prevalent or native in the area and which of those would make a good shape."
Villawood started installing public art in its greenfield areas in 2001 in Wyndham. Many others have followed since. It's lifted the standard of amenity in building projects. Council sometimes like to influence the art but Villawood does not believe artists should have to work under constraints. The nature of art is that it's free. And so Folko is able work on projects with his very own approach and signature style that Villawood residents love to embrace.