Community News
6th September 2019
Behind the scenes at the Geelong GenU Business Centre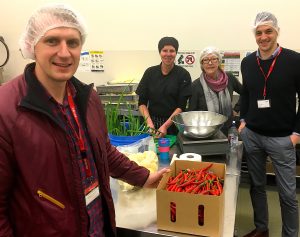 Villawood Properties is very proud to showcase genU's disability home at its Armstrong Mount Duneed display village. The home is a game-changer in the provision of residential services for people with a disability. It's far from the only valuable community work genU is undertaking. NOEL MURPHY explains
It's probably one of Geelong's poorer kept business secrets.
Winner of the medium to large business gong at last year's Geelong Business Excellence Awards, it's hardly hiding its light under a bushel.
But exactly what goes on behind the doors of genU's Business Enterprises in North Geelong's Duoro Street is a little eye-opening to visitors and clients alike. And that's probably understating things.
Tradies and workers in the area are more than familiar with Seasons café at the centre's front with its honest, solid and tasty tucker. Hearty rather than arty is probably a good description. The number of bums on seats, even at 10 in the morning, suggests they love it.
But for others unfamiliar with genU, the enterprises undertaken by some 60 to 70 staff, chiefly people with a disability, behind the café are surprising and as heart-warming as the fare out front.
Signwriting at receptionist gives away some of the game – nursery, laundry, printing, catering, landcare, labour hire, furniture assembly and installation, pick 'n' pack, warehousing, fresh food prep, document shredding – but it's not until you step inside that you get the real idea.
The commercial kitchen behind the café, and providing its fare, is the first of the surprises for the visitor. They're turning out all sorts of gear – jams, sauces, relishes for retail bottling, hampers, Christmas cakes – and catering for events as big as Deakin University open days. Across three campuses.
Behind them, several rooms of people are powering through hundreds and hundreds of pumpkins, spuds, vegetables of all descriptions. They're washing, chopping and packing them for restaurants, cafes and shops. Salads too. A steady rock and roll soundtrack keeps the mood happy and the action moving.
Nearby, staff inside a commercial laundry are powering through clothing, towels, table clothes, T-shirts and the likes for people such as Deakin Uni, Barwon Health and the Viva refinery.
A digital printing operation churns out reams of saddle-stitched booklets, fliers and more for clients, a neat counter to the mobile shredding truck also available through genU.
The Business Enterprises centre's main production area, a well-lit cavernous space, hosts numerous workspaces with people engaged in all manner of activity: stripping electric wiring, bottle labelling, preparing diet sachets, wax beauty products, high-end industrial moulds …
A despatch centre to the rear reveals forklifts and pallets, catalogues and pamphlets by the hundredweight, all sorts of items packaged, shrink-wrapped and ready for delivery to clients and for clients.
Business partnership co-ordinator Mary Maqueda says the work genU undertakes often surprises visitors and clients alike.
"We're not a sheltered workshop, we're a real business," she says. "Tell us what you want and we'll do it – anything from Christmas cakes to mailouts."
And she's bang on the money. Some people you can give a job to and you just know it's going to get done.
Sometimes, it's just a little surprising, and edifying, to find who best fits that bill.