Community News
1st April 2020
Angel next door to the lockdown rescue
An unexpected upside to the Aussie toilet paper crisis is proving a saviour for people stranded by the coronavirus lockdown.
Geelong's Aamir Qutub, like many others, found himself caught short of toilet paper and called his sister, Saba, to see if she could help.
Luckily, she could. It triggered a Eureka moment for the web developer, who threw himself into a website project he's called Angel Next Door.
Angel Next Door harnesses the goodwill of local neighbourhoods to help people doing it tough in the coronavirus shutdown.
"Aussies are quick to help others in a crisis but, right now, it's hard to know just who needs help or where to turn when they do," said Mr Qutub.
"Angel Next Door is helping to fix that with a simple website that offers greater security and privacy than other help sites.
"Plenty of people are doing it tough right now. It's not just toilet paper – they're facing challenges with food, with groceries, medicines, money, jobs, stress and lots more.
Mr Qutub said Angel Next Door was aimed squarely at people keen to help neighbours isolated and unable to access vital services during COVID-19 isolation.
"It might be cooking some take-home dinners or walking the dog, maybe some Panadols, putting out the rubbish bins, gardening or advice on government support," he said.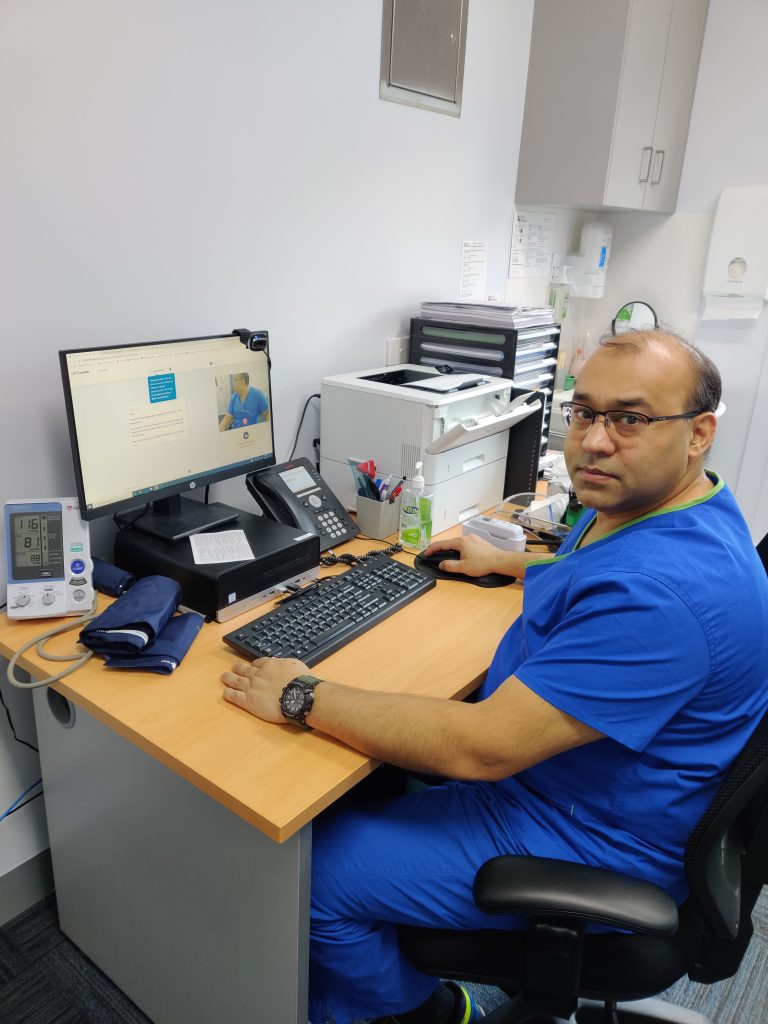 One of the first users was Armstrong Health Centre's Dr Faisal Murad, who was anxious to find a webcam to enable telehealth consultations with patients.
His request, as posted to Angel Next door:
"Desperately need webcam for GP practice at Armstrong Creek.
"We are a GP practice in Armstrong Creek. We are enabling telehealth to help our patients. We are running short of one webcam for our medical practice in Armstrong Creek.
"We can't find it in any shops. If you have a spare webcam that you can sell or rent – please let us know ASAP :)"
It didn't take long for Angel Next door to come through with assistance.
A couple of angels immediately offered help. One offered her own, another organised a special urgent delivery for him.
"If they didn't have any help from the Angels, they would have missed the patients who are stuck at home due to isolation or other reasons," said Mr Qutub.
"These are the people who need access to their GP the most at the moment. I think Angels realised this and rushed for the help immediately."
Angel Next Door is all about community, Mr Qutub said.
"People register their details, and what help they can offer and what help they might need," he said.
"The nearest neighbours are rallied via the website and then spring into action.
"Simply state what help you need and Angel Next Door will do the rest."
BACKGROUND:
Aamir Qutub is CEO of web developer Enterprise Monkey. He was voted Young Entrepreneur of the Year at the 2019 Geelong Business Excellence Awards.
He is also a member of the Geelong Authority advisory panel to Planning Minister Richard Wynne and digital manager at Australian Sports Technologies Network.
He and his team built Angel Next Door in response to a flurry of social media groups trying to help local residents and businesses.
The website has drawn a rapid response from people keen to help their neighbours.
Mr Qutub said the website's privacy security placed it way ahead of other coronavirus assistance efforts on Facebook and social media.
"Angel Next Door is Secure Socket Layers (SSL) Encryption certified, this means your data will be secure and safe from malicious hackers," he said.
"Identity and contact details are kept fully confidential and not shared with the platform users at any stage unlike Facebook groups and other online communities.
"Communications with other community members are facilitated through one-on-one in-app messaging so that no-one else can see your conversation."
LINK: https://angelnextdoor.com.au/
FURTHER COMMENT: Aamir Qutub 0468 688 118, aamir@enterprisemonkey.com.au