Latest News
13th May 2020
Rathdowne's First Residents Settle In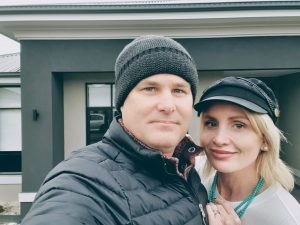 Meet Stuart and Sasha – our very first residents to move into Villawood's spanking new Rathdowne community at Wollert. And number one in Villawood's books because they love what's unfolding at Rathdowne as much as we liked designing and building it for them.
"We are both very happy we went this way," Sasha says.
"We'd seen other housing estates and they just didn't compare. "Rathdowne is all about open space, the residents club, the tree-lined streets, the lifestyle, the nice open big entry, the artworks. "It's got charm, it's got appeal. It got us!"
Sasha and Stuart have moved into Lavelle Place. They are both formerly from Coburg. They both just wanted to move into a home that was brand new and not have to do any renovations.
"We both didn't know anything about Villawood initially," says Sasha. "We were chasing a block on the bigger size and found it challenging looking at other estates because most of them were not offering a bigger block. "So it was word of mouth that got us here.
"We were very impressed with Rathdowne and decided to lay down roots here and enjoy the lifestyle that soon awaits with all the extra amenities.
"We have the Residents Club to look forward to, the specialty shops and soon-to-be supermarket that will be literally a stone's throw away from our front door.
"We built with Carlisle Homes in a single-storey home of our dreams. We feel Rathdowne is a cut above the rest as it feels like much more of a boutique estate."
Thanks Sasha and Stuart! And welcome to Rathdowne.