Latest News
31st July 2020
Making Play Of The Great Escape At Rathdowne
If recent times have taught us anything it's that open space and room to move is more important in our lives than ever. We need to run about, to soak up fresh air, kick back and watch the clouds. Smell the roses – and the plants and shrubs.
If we didn't realise it before Covid, we know it now: connecting with nature is a crucial part of our physical and mental health. It's fun, it makes us happy. Which is why the start of construction work on Rathdowne's Central Park is very special. It's not only about clever features and spaces, it's about connecting with arms and legs and hands and feet as well.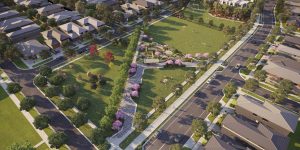 The one-hectare park will be a central hub of activity, fun and chill with a playground, an amphitheatre-terraced kick-about area, off-leash dog space, signature Villawood public art, free WiFi and 'lunch' and 'sculpture' lawn areas. When we say playground, we're talking about multiple swings, slide, climbing nets, talking tubes, spinners, rockers, seesaw, trampoline, sensory play items … the lot. Very cool stuff.
Central Park is all about play and relaxation, both of which are especially important to growing kids. They need to have fun, to get dirt under their nails, climb trees and run, jump and, yes, fall over. It's all about spatial awareness, engaging with nature, knowing their limits and dealing with risk – learning, staying healthy and, over the longer term, developing healthy fun habits.
Of course, not everyone wants to run and jump all the time. The park will also have ample shelter and seating for parents to catch up with new friends or relax after trying to keep up with the kids.
The park is sited in the centre of Rathdowne. Its architects have drafted a striking contemporary design in an urban setting. Think sawn bluestone pavers, aggregate and smooth concrete surfaces, coloured steel furniture and play equipment.
All up, it'll be a great escape. One that will preserve sanity and provide a very welcome connection with the community.
And works are expected to be complete as soon as early 2021 so get excited!