Corporate News
27th April 2022
All Points of the Compass at Rathdowne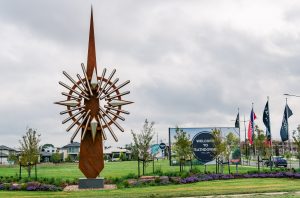 The migrant sojourn that shaped the lives of so many Australians is being celebrated in Melbourne's northern greenfields with a giant illuminated compass by Villawood's resident sculptor Folko Kooper.
Folko has created the gold-coloured way-finder at the entrance of our Rathdowne community at Wollert. Folko has a lengthy catalogue of giant sculptures he's designed for Villawood but this one has a special significance for the Dutch-born artist.
"The design brief included 'migration' and Rathdowne Street in Carlton is a street filled with migration evidence and is a symbol of new Australia," Folko says. "The customers for this community are new Australians. They hail from 'All Points of the Compass', the official name for this piece. It honours the residents in Rathdowne."
The migrant experience is a common across Villawood's greenfields projects with numerous buyers born overseas, many of them on the Asian sub-continent. The Rathdowne project was named for the migrants who made Melbourne's Carlton their home in the 1950s, and who subsequently changed the city's culture. Like the artistic inner-city enclave, Villawood's Rathdowne features murals, sculptures, interactive art and sharp urban design. It boasts, verdant parks, gardens and waterway corridors – even soaring corten steel depictions of the area's curly sedge grasses together with a giant handbag and chic high-heel shoes. It's nothing if not cosmopolitan and Folko has extended the theme further.
"There are companion pieces to the compass in the next park – a series of carved granite and bluestone suitcases," he says. The four works are eye-catching to say the least but it is Kooper's brightly-lit compass that is Rathdowne's knockout migrant icon. The compass sculpture is mounted on a 10-metre tall compass needle pointing north, Rathdowne being the Villawood jewel in Melbourne's north," he says. "The stand-out element in this corten and stainless steel sculpture is the lights. This is the first major sculpture with internal lights. It turns the compass into a starburst once it is dark and it's very spectacular.
"Add the fact that it is soooo tall. Logistical and engineering issues due to the lights and the height made this quite a challenge to build. It took some gleaning from lighting designers and a great fabrication team to get it off the ground."