Corporate News
26th April 2022
Greek Goddess Effie Launches $7m Club Rathdowne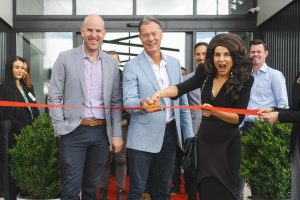 Villawood's stunning new $7 million Club Rathdowne at Wollert has been officially launched in an industry-packed ceremony by Greek goddess and comedy queen Effie Stephanidis. The Logie-winning star, aka, Mary Coustas, joined Villawood Executive Director Tony Johnson and Victorian General Manager Andrew Duggan in a ribbon-cutting ceremony at the ClarkeHopkinsClarke-deisgned residents' club.
In patently irrepressible Effie fashion, the hair-gel queen told Tony he was a "spunk" who looked like "a retired Country Road model" .
"I like Villawood. That's not a suck-up, I'm taking the money anyway," she told a 100-strong crowd of rapt industry figures and club stakeholders. "Obviously the business is going well because youse give people what they want."
Club Rathdowne, the eighth of Villawood's signature residents' clubs boasts a wide range of features – gym, pool, wet deck, café, courts, family and function rooms, barbecue, community garden – and is powered by a ground-breaking microgrid solar system. It is the social linchpin for newcomers to the 1000-lot masterplanned Rathdowne community –located between Craigieburn and Epping, a star performer in the Villawood stable and the jewel of Melbourne's northern growth corridor.
Effie highlighted to the crowd the migrant theme running through Rathdowne, named for a key thoroughfare in Melbourne's multicultural/migrant hub Carlton. She also professed a Greek desire for property over stocks and bonds – for "bragging rights" – and a love of anything concrete that could be "hosed down".'
Alternating as actress Mary Coustas and alter-ego star of Wogs Out of Work, Acropolis Now, Effie's Guide to Being Up Yourselves and Effie The Virgin Bride, Effie highlighted Rathdowne's tip to its migrant residents with the club social hub and artistic flourishes  such as Folko Kooper's giant compass and suitcase sculptures.
She praised Club Rathdowne's family focus and its social hub focus, as well as Villawood's sustainability efforts, its block-for-block donations to State forest and philosophy of giving back to the community. She said she was "a minority" herself but stressed pull enough minorities together and you get a majority, citing Melbourne's cultural DNA for its market popularity for immigrant arrivals.