Corporate News
11th September 2019
House for Life Auction Raises Almost $1 million for Mater Little Miracles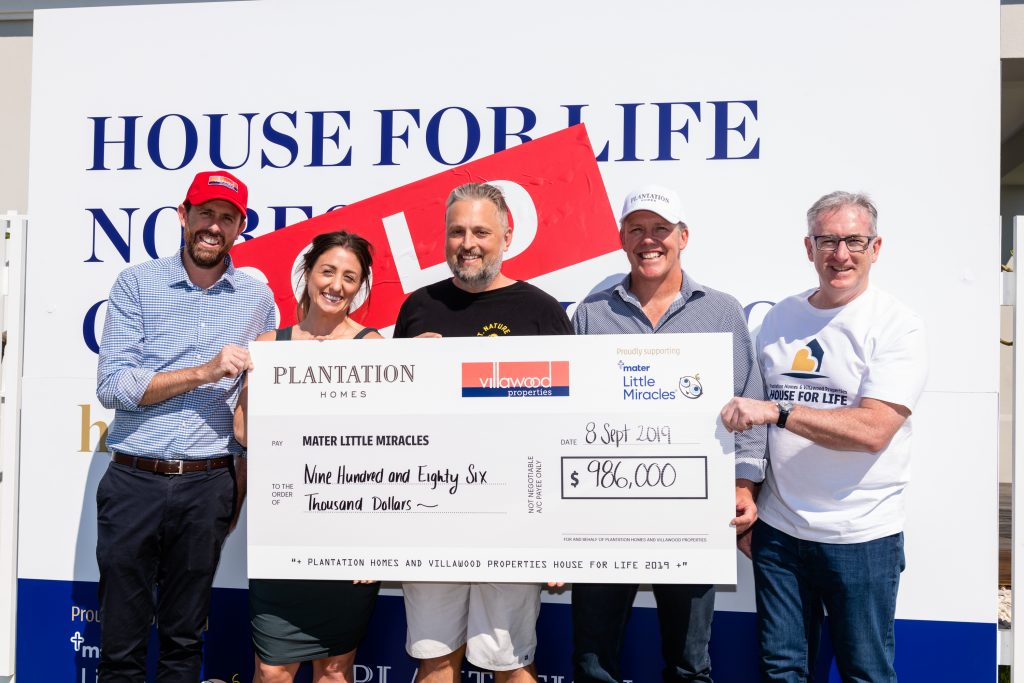 The joy of one ecstatic family will be spread to countless others with Plantation Homes and Villawood Properties record-breaking House For Life Charity Home Auction result coming in at $986,000 every cent of which goes to Mater Little Miracles.
Over 800 people gathered at Laurel Drive Helensvale on Sunday 8th to watch the auction and be part of the action-packed free family fun day.
There were 18 bidders registered in the battle to win the stunning, custom four-bedroom, two storey Hamptons-inspired home, which was auctioned live onsite at The Surrounds master-planned community at Helensvale.
A Coomera couple who attended the very first open for inspection, Philip and Hayley Lakic, were ecstatic following the final bid, with just $1000 giving them the lead, saying it was the perfect location for them as they start their family.
The Coomera couple said knowing the funds would be donated to the Mater Little Miracles, was what encouraged them to get involved. "I think that's what made us turn up," Mr Lakic said. "It definitely makes it more satisfying to buy."
The Mater Little Miracles was an initiative close to their hearts as Ms Lakic's grandmother used to sell charity home tickets for the foundation in the 1970s. "I didn't really think about it when we came here – she sort of started it all," Ms Lakic said. "She lives in a Mater home now." The couple said it would take a while for the news to sink in but they were excited to start their family there. "It's a perfect location for us," Ms Lakic said.
Mater Foundation Executive Director of Fundraising, Lesley Ray, said watching Immi Squiers run around on stage with mum Sam, and seeing other Mater Little Miracles having fun at the event, showcased how priceless the initiative is.
"Seeing these Mater Little Miracles with their families at the auction brings home what this project achieves, making a real difference to our resources and research so that we can continue supporting families and their babies who require specialised care at Mater's Neonatal Critical Care Unit."
Villawood Properties State Manager – Development Michael Williams, said they were extremely proud to be able to join the initiative this year and be the first developer to donate the land in full.
"It was wonderful to see the community spirit in action at The Surrounds yesterday, and we are so excited to welcome another family to the area. Everyone did such a fantastic job on this project, it's been heart-warming to see the dream delivered," he said.
Amanda Reilly, Plantation Homes Marketing Manager, said she had goose bumps watching the auction.
"It is such an amazing moment when the hammer goes down and we welcome a family into their dream home. We are so proud of this initiative because it is makes such a huge difference to the lives of Queensland's tiniest patients – and we know it means so much to everyone. We are incredibly proud to have so many likeminded individuals and business' alongside us on this project, who share in our commitment to giving back to the community; we simply could not have achieved this amazing result alone,".
House for Life is an initiative of Plantation Homes, Villawood Properties and Mater Foundation.  All proceeds raised from the auction will go toward Mater Little Miracles.