Community News
9th May 2022
Introducing: Our Redstone Sunbury Sales Team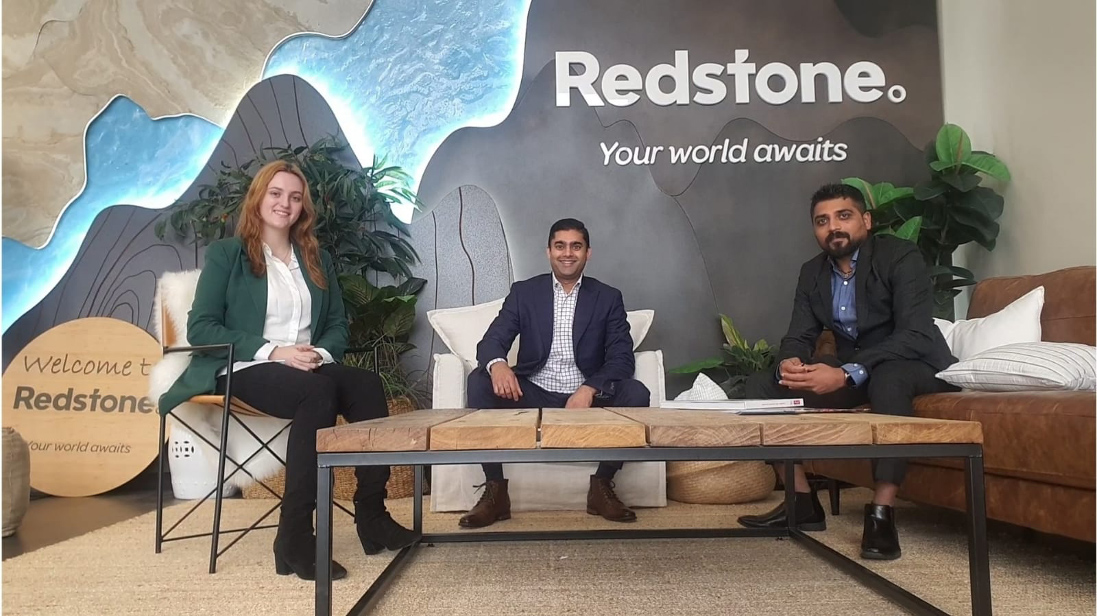 Yash, you've worked with several Villawood projects across Melbourne and Geelong. In your experience, what are the key things that make them stand apart from their competitors?
Villawood Properties is a well-known developer providing the most liveable community for their residents. Villawood stands out from the crowd in multiple ways; from its exceptional residents-only clubs and well-planned spaces for residents to enjoy, to the timeline of completing their stages – something that really attracts the market. These provide strong confidence to future residents, especially younger couples planning to purchase their first land to build their first home. Having common amenities in close proximity is another strong plus.
Holly, you've lived in Sunbury most of your life. You know the town well but it's a bit of a secret to people from elsewhere. What makes Sunbury tick? Why is it different and why is it special?
Sunbury is such a unique blend of country and suburban. It's right on the border of both metro and regional, and the town is such a mixture of the great things both lifestyles have to offer. That is what truly makes it such a special place.
Mitul, you're finding many purchasers at Redstone are coming from out of town. Also, a great many are born overseas. These numbers have climbed rapidly over the past year. What do you think is driving this?
Securing a solid future for their family, It's a safe way to invest and make money while achieving a better lifestyle and, for some, upsizing their home.
Yash, Redstone offers a two-fold lifestyle opportunity with both ready access to the CBD and a semi-rural existing township. How useful is this to people looking to combine working from home with raising a family?
The majority of workers in a wide range of industries now have the flexibility to work from home. Sunbury will provide future residents the ease of having rail stations just few kilometres away. This makes it easier to travel to work. Having the ability to plan a new home in an estate that will provide day-to-day amenities – and a future 40,000 sqm town centre at walking distance – is a huge attraction for the estate. This will provide the balance residents require to have the best of both worlds.
Holly, the Macedon Ranges next door to Sunbury make up what is probably the best back yard in Melbourne. How rich a lifestyle resource is this for people looking to live at Redstone?
I myself love hiking and enjoying the outdoors with my friends, so Sunbury being so close to the Macedon Ranges is perfect. It has everything we could want – so many different great hiking trails, tons of camping spots, swimming spots, as well as other great outdoor activities such as archery, paintball, golf, the list goes on! There really is no shortage of things to do around here.
Mitul, what are the key questions you're being asked by people visiting Redstone? What are they looking for? And how does Redstone fit the bill for them?
Purchasers want to know more about communities, the developer and the estate. Redstone offers a very good mix of country living while remaining close to city life. It offers good sized blocks and there's something to choose for all types of buyers.
Yash, Sunbury's growth forecasts show strong business and job opportunities. This means Redstone is not just a good place to live but also a good place to base yourself if you're running, or thinking of setting up, a local business? Roads, rail, airport …
Sunbury will provide a huge growth opportunity for the local communities, from part-time jobs for students to business-owners keen to establish branches and start-ups and build their reputation in a well-known community. Local businesses will be able to benefit from the future residents, too, and FIFO workers will have easy 10-minute access to Melbourne Airport.
Holly, Sunbury already has a bit of everything – schools, retail, medical – but it also has a strong sense of community with lots of sports clubs and groups. How important, how rare, is established infrastructure in the greenfields?
Normally, country towns have very little in terms of infrastructure but Sunbury is so rare in the sense that it does have a bit of everything, in the sense of shops, schools, food and so on, but it's also so rare with how strong the bonds of this community are. There are absolutely endless ways to get involved with the community, and it is such a supportive community to be a part of.
If people are struggling, they reach out and are frequently flooded with aid. We have whole pages online dedicated to helping those in our Sunbury community in need. As well, we are so lucky to have such a vast array of clubs and groups that span pretty much anything you could think of, from sporting to music, crafts, helping those in need, reading, baking, there are just so many.
Mitul, value for money is critical to purchasers. How does Redstone stack up with what it offers? And what about sustainable housing and further savings with reduced power bills?
Redstone offers very sustainable living. There's no gas supply, so no more gas bills, and houses will be run by solar-powered electricity. So it is very sustainable.