Community News
15th February 2019
School, garden, fitness all kicking on
BUILDING continues to move apace at Armstrong's striking new $20 million primary school on Unity Drive.
The school, to be named Armstrong Creek West Primary, is rapidly taking shape and with cladding now on its buildings cuts an impressive sight.
It is scheduled to open January next year and will cater for 475 students.
Not only will it service Armstrong's growing young population, it will also help ease enrolment pressure on surrounding schools.
A principal will be appointed later this year to focus on recruiting staff and setting the direction of the school.
Details on enrolment boundaries and how to enrol your child will be released later in the year as well.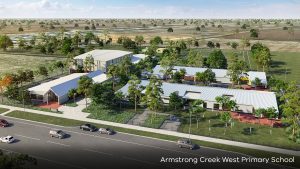 MEANWHILE, green thumbs at Club Armstrong are as proud as punch with their new community garden's progress since its first plantings just a couple of months ago.
The garden is absolutely flourishing with basil, lettuce, strawberries, yellow cucumbers, capsicums, tomatoes, pumpkins,
lettuce, sunflowers, herbs and loads more.
Residents are all on board with the club's new addition, some visiting daily to maintain and also harvest produce to enjoy for dinner.
There's a healthy list of residents keen to get on board when the garden's next stage is installed and launched in September, doubling its current size.
YOGA and group training fitness classes at Club Armstrong are proving winners with members.
Yoga is staged on Tuesdays at 6.30pm in the club's function room. Group fitness sessions – with boxing, body weight circuit, core work and more – are held on the tennis courts Wednesdays at 6.30pm and Thursdays 6.15pm.
Over-50s fitness classes are also held in the club gym Wednesdays at 10.30am. Bring a towel with you.
Original Article can be found here – https://freelocalnews.com.au/surfcoasttimes/real-estate/school-garden-fitness-all-kicking-on/