Community News
22nd November 2018
The Changing Face Of Mt Duneed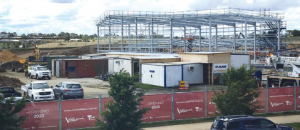 The skyline at Armstrong Mount Duneed is changing as works progress on the new primary school in Unity Drive.
The school is one more piece of vital infrastructure to appear at Armstrong with the community continuing to grow apace as the Urban Development Institute of Australia's Best Masterplanned Community.
Right now, it's all cranes and excavators, steel girders, site huts and heaps of soil, as the school's frame rises into the sky against a backdrop of tall orange floodlights at Armstrong Oval and directly opposite the popular Club Armstrong.
The school, scheduled to open for the 2020 school year, is just one of numerous new facilities that will emerge at Armstrong Mount Duneed in the next year or two.
Construction of a neighbourhood activity centre featuring retail outlets, medical facilities and specialty stores is scheduled to get under way in the next year or so to accommodate the Armstrong community.
A stand-out waterfront restaurant overlooking the wetlands to Armstrong southeast is planned too, as well as a strip of specialty shops to its north, bordering the Surf Coast Highway. A secondary school is in the pipeline as well.
As the community grows, so too do vehicle movements and new traffic lights have been installed at the intersection of Unity and Sovereign, beside the Armstrong District park, to help ensure safety remains top priority for the many youngsters and parents making use of that popular facility.
If you didn't know, Armstrong developer Villawood Properties is again in the running for excellence awards in the Urban Development Institute of Australia annual gongs.
Villawood – an industry leader in community facilities, design and engagement – has been shortlisted for the UDIA's Community Engagement Excellence award for Armstrong.
The UDIA award recognises leadership and innovation in delivering services and social infrastructure in new developments. It also acknowledges community Involvement, planning, development and capacity building as well as equity and diversity, safety and cultural heritage.
Armstrong boasts neighbourhood art programs, family fun days, school engagement programs, sponsorships and numerous other fun activities.
In the wider Geelong community, Villawood works and supporting local organisations and clubs through its Community Grants program.
Many partnerships and sponsorships have been made with local groups which will continue to broaden the community engagement inherent to Armstrong.
Villawood is a strong financial supporter, too, of the Geelong Football Club – an exciting relationship that regularly brings AFL stars into contact with its Armstrong residents.
The UDIA Excellence Awards will be presented at Crown Palladium on December 7.
See Original Article Here: https://freelocalnews.com.au/surfcoasttimes/real-estate/the-changing-face-of-mt-duneed/