Community News
22nd November 2019
Sanctuary Haven For Camper
Camping out to buy a block of land usually means hitting the recliner button on a car seat and weathering the elements under a thick blanket or doona.
It can be cold, uncomfortable, sleep-depriving. Not so, however, for Adrian Bosworth, who just bought in at Armstrong Mount Duneed's Sanctuary.
"I had the best night's sleep I'd had in ages – no kids," he laughed after emerging from his one-man tent on the grass in front of the Armstrong Land Sales Office.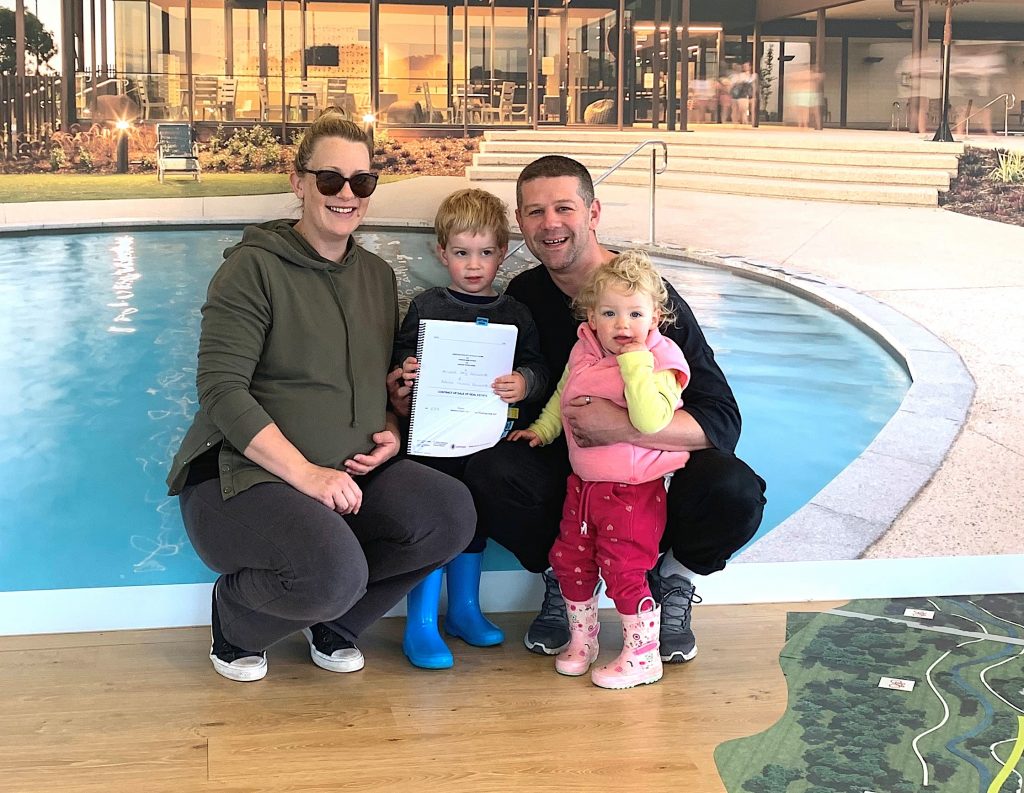 Adrian was also grinning because he secured Lot 639, a 712 sqm block with reserve and creek frontage, and one of the finest in Villawood Properties' Sanctuary hideaway precinct.
But there was more to it. He and wife Michelle had been searching for a slice of heaven for their two kids – and a third due on Christmas Day – with some fiscal help from Adrian's Dad Roy, who passed away last year.
"He worked as a builder but was an antiques carpenter by trade," says Adrian. "To watch him build a unit was out of this world, I've never seen such detail.
"I would've had Dad doing a lot around the house. And he'd have loved the block, it's totally awesome, we've been very lucky – so this is a memorial for us."
Adrian and Michelle arrived at Sanctuary by way of Belmont, Point Cook and Elwood.
"We got to Belmont and we'd been looking at Armstrong and Mount Duneed but there was nothing that suited us, that was big enough within our budget," she says.
"Then the Armstrong sales team bought the block up with us. He recommended Sanctuary because it's close to the creek and reserves and to the shops.
"We've now just signed with Kinsgbridge to build a Stanford 29 – a four-bedroom, three living areas, single-story home."
Michelle works as a primary teacher at Werribee, Adrian as a hairdresser in Newtown. With youngsters Andrew, 3, and Ruby-Anne, 2, and third soon to join the family, they're looking forward to making the most of Sanctuary and its green credentials.
"There's lots of playing room for the kids and it won't get built up,": says Michelle.
"It's exactly how we wanted it."