Community News
15th November 2019
A day in the life at Club ARMSTRONG
Live life to the fullest in a Villawood residents' club
It's 7pm Tuesday upstairs in the Club Armstrong function room overlooking beautiful Bunjil's Nest and it's all stretch, relax and breathe deeply.
Yes, it's yoga time. And the perfect time and place to charge the batteries for your full, busy lifestyle.
It doesn't matter what day it is, or what time of year, a day in the life of Villawood Properties' Club Armstrong residents' club is an exciting and interesting day.
You can chat over a coffee, work out in the gym or rip through a group exercise session. Maybe play Mini Maestros with the kids, meet up with the mums, or hit the pool or the tennis court.
You could tend a plot in the community garden, host a kids' party, stage a presentation, soak up some Vitamin D while the kids swim … you could even fire off some work emails in a relaxed café environment.
Pilates, Zumba, boot camp, yoga, it's all there – and so much more.
Take a look at just some of the activity that regularly unfolds on any given day at Club Armstrong.
5AM MONDAY
Club gym:
Headphones, waters bottle and towels in hand, gym-goers file into Club Armstrong for a pre-dawn burst of energy in preparation for a full day. Music pounds out a solid backdrop as they slide into a steady rhythm of running, riding and pumping. Routines finished by 6am, these early-birds hit the showers before heading for breakfast.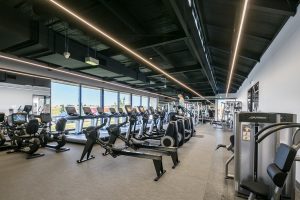 6.00AM WEDNESDAY
Upstairs function room: Pilates with Alex provides a total body workout that will get you trim, taut and terrific. The early start means you'll be feeling fresh and revitalised to get the most out of your day.
7.00AM TUESDAY:
Library: Just finished a gym workout and showered, and waiting on a café coffee before heading for the station and your daily commute? Drop into the club library to grab a book for the trip. Fiction, biographies, white-knuckle thrillers … the Club Armstrong library has a wide selection to choose from,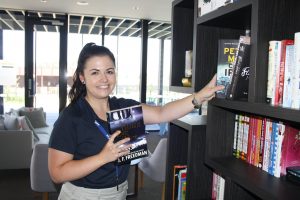 8AM, SATURDAY
Tennis courts: Yes, it's your very own boot camp. Fitness followers dig deep in boxing sessions, running drills and cardio obstacle courses. Get that heartbeat up and stay fit in your own club.
9AM, SUNDAY:
9 Grams Café: Mums, dads and kids settle inside for brekkies, brunches and drinks. Seats and tables are humming to happy sounds on the outside decking. Chefs are churning out brioche buns, sourdough and French toast, avocado and eggs, pancakes, corn and falafel fritters, cereal, fruit and lots more.
10.00AM, TUESDAY
Bunjil's Nest: This is the best adventure park this side of Melbourne so think kids, picnics, barbecues, parents and group outings. Toddlers hop, skip and tear about as they tackle slides, swings, rides, tunnels, trees, flying fox and more. Mums gather about tables and across grassed areas with their strollers and bags. "Watch this, Mum! Watch me!" echoes across the park. Kids learn all about tactile issues, heights, enclosures, rocks and trees and the eucalypt-scented wind in their faces. Playing and learning at the same time.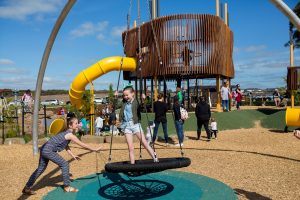 11.00AM WEDNESDAY
Parents' room, Mini Maestros: It's music time for tiny tots. Guitars, ukuleles, lots of instruments, songs, dance and play. Mums sit cross-legged in a circle on the carpet. In the middle of them, toddlers bounce from side to side, as session leader Kate takes them a musical journey of discovery and fun. The verdict: gurgles of delight.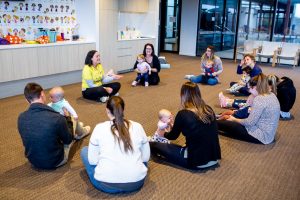 12.00AM, THURSDAY
Park deck, 9 Grams: A mum with toddler, toys and change bag, runs her hands through her little girl's hair as they share a drink and cake. Her girlfriend arrives with another toddler. The conversation is all laughs and kids, spooning food and wiping little faces as the tots wriggle and giggle. A young girl with purple hair waits, with pot of tea, for her friend. A dad ushers a little boy and girl and their takeaways towards the playground. Two tradies shoot the breeze over coffees as a truck driver pulls up and makes his way to the café. A border collie walks its owner past. A cyclist rides by, waving, and whistling loudly to a friend.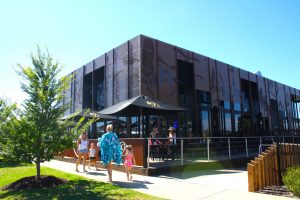 1.00PM FRIDAY
Tennis courts:  It's club event time with hundreds of kids in a wonderworld of snow cones, fairy floss, unicorn and cat faces, jumping castles, snags and hamburgers. This one's Grand Final Eve and young footy fans are kicking balls around the club. A handball contest, a bucking bronco footy ride, burgers, sausages and vegie options feed the hungry hoards as kids whip up a minor cyclone of fun tearing about, catching up with friends and making new ones.
 2.00PM WEDNESDAY
Function room: Kids from Geelong Lutheran College go through their paces before a national science competition presentation. On their agenda: robotics, hydro-dynamics and saving household water, a Shark tank performance and some sassy dance moves. They'll win, of course.
3.00PM SUNDAY
Party time, upstairs: Yes, it's party time! One-year-old's party time, actually. So … lots of balloons, streamers, baby monitors and over-excited parents. Yes, first birthday parties really are the most common party staged at the club. But there are many others, too, for kids of all ages. The club's even hosted weddings. No need to travel to find a venue when you have your very own.
4.00PM MONDAY:
Swimming pools: Here they come, fresh out of school and just itching to throw themselves into the club's two pools to cool off. Mums have had the little ones in the pool during the day, laps swimmers have been regularly plying the lanes – now school's out and the kids are rearing to splash up a fun storm.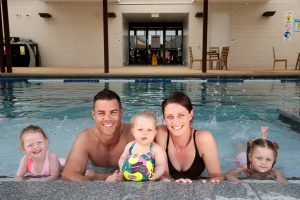 5.00PM: SATURDAY
Tennis courts: Gentle sledging between two competitive neighbours with the loser to play barbecue host next weekend for their two families. "Is that the best you can do?" laughs the winning player. "I could go to the supermarket and get the snags for you now and I'd still win …"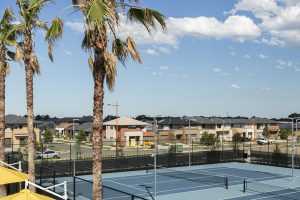 6.00PM, WEDNESDAY
Community garden: Green thumbs, kitchen gardeners and kids alike throw themselves into this special club activity – planting, propagating, feeding and nurturing and ultimately harvesting. There's basil, lettuce, strawberries, yellow cucumbers, capsicums, tomatoes, pumpkins, lettuce, sunflowers, herbs and loads more.  Some people arrive daily to maintain or pick produce to enjoy for dinner.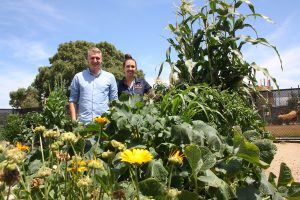 7.00PM: MONDAY
Upstairs function room: Jessica puts her Zumba class through its pace; Latin-styled dance aerobics. Step it up with some salsa, mambo and rumba rhythms to help tone your body and swing your way to fitness as the pretty lights of Mount Duneed twinkle through the club's upstairs windows.
8.00PM, TUESDAY:
Club gym: The music's pumping to the huff-puff of runners, rowers, riders and some two dozen sweat-soaked fitness lovers doing their thing.
Outside it's 18 degrees and gym users have a gentle sun streaming in through the wide tinted window and can see folks as they flood into the café and the park next door.
9.00PM, WEDNESDAY:
Swimming pool: The water's a comfy 28 degrees as swimmers freestyle up and down with the steady engine-like rhythm of a marine craft. Overhead, a curious sparrow flutters about investigating the nooks and crannies of the indoor/outdoor pool's roof. It is an outdoor heated pool, after all.
 10PM, MONDAY:
Club gym: It might be getting late but that doesn't mean the gym's not being used. Club Armstrong's well-equipped gym will be running to midnight. We know your busy lifestyle sometimes means you can't get where you want earlier, so the gym is open until midnight.