Community News
31st March 2022
New Path to Improve Station Connection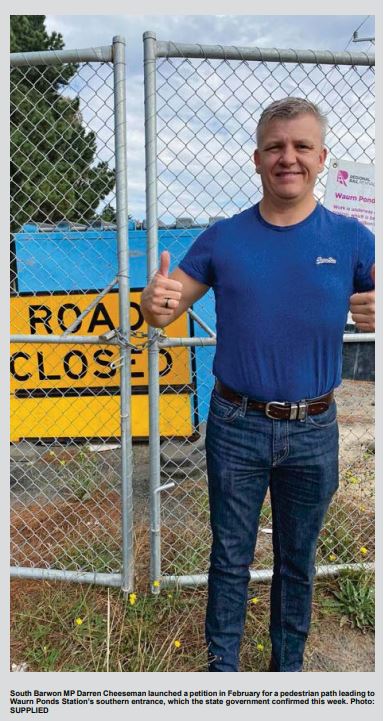 A NEW pedestrian path will soon link Waurn Ponds Station to Baanip Boulevard to provide easier access to rail services for Geelong's fastest-growing development corridor.
The state government announced this week that construction would begin in April on a 430-metre, shared-use path alongside Muir Road, which is currently closed near the station.
The new walkway would link the boulevard's existing pedestrian footpath to Waurn Ponds Station's southern entrance.
The path will have CCTV and lighting for safer connections to the station for Mount Duneed and Armstrong Creek residents.
Construction on the path is due to finish mid-this year, around the same time as the new southside platform begins taking trains following commissioning and critical safety testing.
The new pathway builds on an upgrade for Waurn Ponds Station, which finished major works this year and was a joint commitment from the federal and state governments as part of a wider project to duplicate the rail line to South Geelong.
The upgrade included a second platform and pedestrian overpass, plus ramps, lifts and stairs, and a revamped parking area, entrance and forecourt.
South Barwon MP Darren Cheeseman launched a petition, which attracted more than 500 signatures, calling for the path link in the weeks before the government announcement, which he said was a "community win".
"We've transformed Waurn Ponds Station – and now we're ensuring passengers will be able to easily access the southern entrance by getting on with building this new shared user path," Mr Cheeseman said.
"Works will get underway next month – making it easier and quicker for locals to get on a train and get to where they need to go."
Originally Published in Bellarine Times 31/03/22