Community News
11th April 2022
Armstrong April Community Update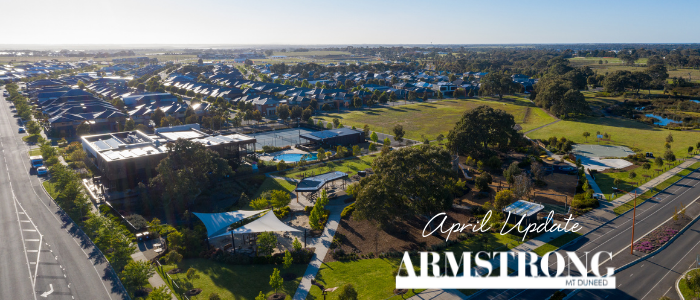 Can you believe it's April already and the Easter break is almost here!
After the challenges of the last couple of years, being with family and relaxing is just what we all need (and did we mention chocolate?).
Since we were last in touch with you, demand has continued to grow for land in the Surf Coast and especially here in Armstrong Mount Duneed.
We're delighted to announce that Mount Duneed Village has commenced construction. It's set to deliver a blend of community, retail and town home living, in a vibrant hub for residents to enjoy.
In other news, since our December update, Stage 46C and 46D have titled, and construction has been completed on Stage 66 and 33, with Stage 67 and 62 now under construction.
Last, but by no means least, Club upgrades are set to start in June, so there will be even more reasons to celebrate life at Armstrong.
The upgrade will feature a new multi-purpose room with kitchenette, connected to a new double-storey building with welcoming lobby and lift, new communal office space and a deck overlooking the pool. There will also be a second multi-purpose room with balcony on level one available for residents to book for private functions. We can't wait to welcome you to these new spaces!
Have a wonderful Easter and enjoy the break as we ease into the cooler months.
Sincerely,
The ARMSTRONG Team.