Community News
10th March 2021
HEAVY METAL MESSAGE – GET VACCINATED
Get vaccinated. That's the universal message, plain and simple, greeting Surf Coast Highway travellers at Mount Duneed.
It's a message that's a bit hard to miss, too, projected as it is in three-metre high corten steel letters.
The COVID jab prompt was installed by developer Villawood Properties in tandem with the Barwon Health Foundation.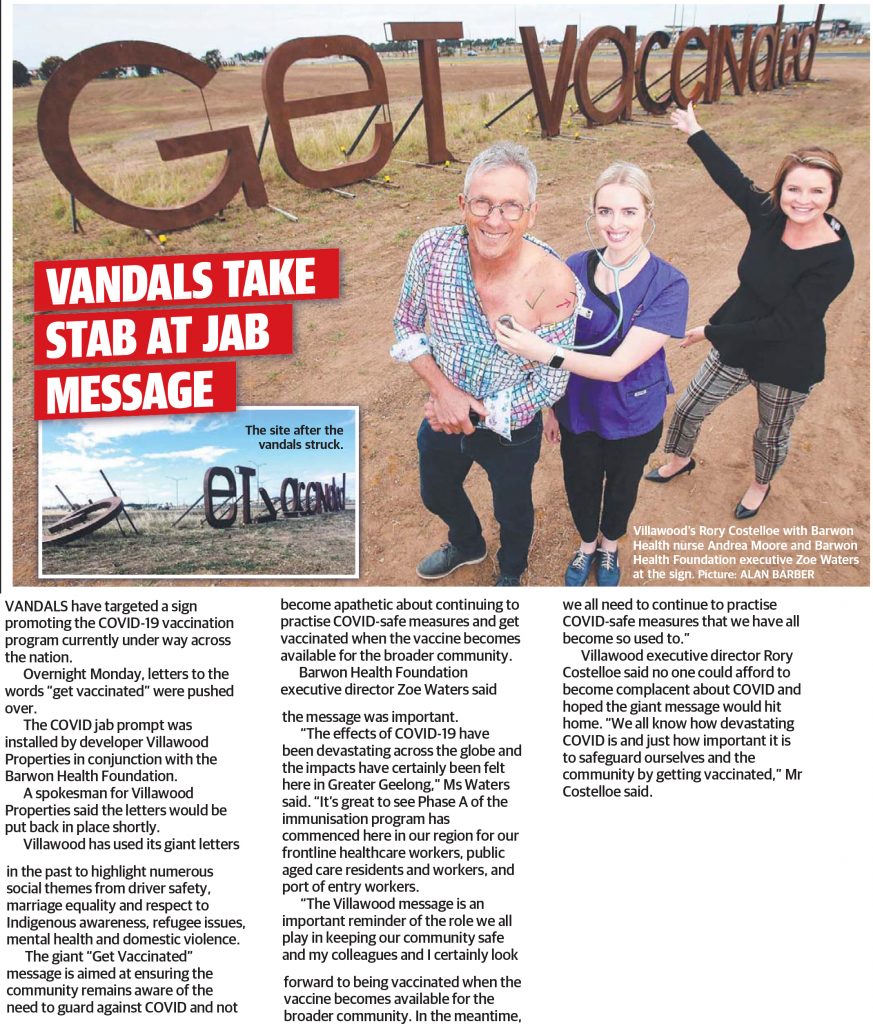 Villawood has used its giant letters in the past to highlight numerous social themes from driver safety, marriage equality and respect to indigenous awareness, refugee issues, mental health and domestic violence.
The giant 'Get Vaccinated' message is aimed at ensuring the community remains aware of the need to guard against COVID and not become apathetic about continuing to practise COVID-safe measures and get vaccinated when the vaccine becomes available for the broader community.
Barwon Health Foundation executive director Zoe Waters said the message was important.
"The effects of COVID-19 have been devastating across the globe and the impacts have certainly been felt here in Greater Geelong," Ms Waters said.
'It's great to see Phase A of the immunisation program has commenced here in our region for our frontline healthcare workers, public aged care residents and workers, and port of entry workers.
"The Villawood message is an important reminder of the role we all play in keeping our community safe and my colleagues and I certainly look forward to being vaccinated when the vaccine becomes available for the broader community.
"In the meantime, we all need to continue to practise COVID safe measures that we have all become so used to."
Villawood executive director Rory Costelloe said no-one could afford to become blasé about COVID and hoped the giant message would hit home.
"We all know how devastating COVID is and just how important it is to safeguard ourselves and the community by getting vaccinated," Mr Costelloe said.
"That's why we've put these letters up along the Surf Coast Highway. People can't afford to be blasé about this virus.
"It's particularly important for our frontline healthcare workers, who have been extraordinary in fighting the pandemic. They've shown just how important they are to the community and how important it is for the community to come together when we're faced with an emergency."
Villawood Properties has paired with web developer Aamir Qutub to develop the Angel Next Door app to help people isolated by COVID with practical aid. It's drawn almost 10,000 Angels willing help.
Villawood provides care workers – frontline COVID workers as well as teachers, police, firefighters, personal carers and others – with $20K support to help them enter the property market. It also actively encourages healthy communities with resident club pools and gyms, adventure playgrounds, extensive open space and events to encourage an active and engaging lifestyle.