Community News
20th December 2021
Armstrong December Community Update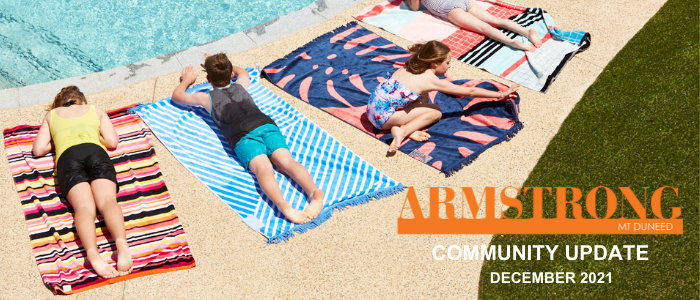 December is here and we think, like most Victorians, that the Christmas break is one which we have all been looking forward to, for months!
The weather is shaping up to deliver us perfect conditions to celebrate with family and friends in the region we are lucky enough to call home.  Surf, sun, barbeques, parks, family picnics and generally being outdoors to soak it up and enjoy connection again after what was a remarkably tough year, two years in a row!
Since the last update in August, we have continued to experience incredibly strong demand in land for people looking to move to the Surf Coast, or existing residents looking to upgrade. To all our new purchasers, we look forward to welcoming you into our award-winning community.
In the last four months at AMRSTRONG Stage 65B has titled, Stage 47B achieved SOC with titles imminent and construction has commenced on Stages 33, 62 and 67.
We have just released the first of our exciting new VillaRange designer home packages, which have been very well received by the market. These architect-designed homes are a new level of quality and affordability and positioned close to the centre of ARMSTRONG. We look forward to more VillaRange releases in the new year.
Merry Christmas and Happy New Year to all in our wonderful Armstrong family. Have a lovely time and remember over summer to take care in the water and to watch the sun. Slip, slop, slap!
The Armstrong Team.