Community News
11th September 2019
Top-level MIrripoa set for ARMSTRONG Mt Duneed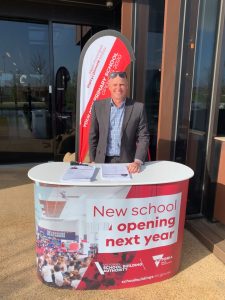 Mirripoa Primary, ArRMSTRONG Mount Duneed's new school, is shaping up as one of the very best educational facilities in the Geelong region.
Set to open for business in 2020 on Unity Drive, opposite Club Armstrong, the school expects around 70 enrolments in its first year, mainly preps, but this should grow rapidly.
Equipped to cater for some 475 students, the school boasts state-of-the-art facilities, open learning and activity spaces, teachers' rooms and administration offices.
Principal Darryl Diment says the staggered introduction of students to the new primary will help the school community grow and engage strongly.
The $20 million school, designed by K2LD and Architectus and built by Kane Constructions, includes a large, impressive gym/basketball centre Daryl Diment expects will be used widely by students and the Armstrong community alike.
Plantings, decks, lighting, vegie gardens, paths, ovals and fencing have been completed. Playgrounds are in progress. Security air locks have been installed throughout the school.
Other features of Mirripoa include a music room, library, amphitheatre, community lounge, first aid room, canteen and water storage.
Mirripoa Primary is one of several key community assets unfolding at Armstrong Mount Duneed right now.
A major shopping centre on the Surf Coast Highway opposite the Armstrong Land Sales office is coming up swiftly.
A neighbourhood activity centre opposite the Bunjil's Nest district park at the corner of Unity and Sovereign is about to start construction.
Diagonally opposite, a community centre project is about to start construction as well.