Corporate News
11th April 2023
Good Friday Million Dollar Magic at Coridale, Lara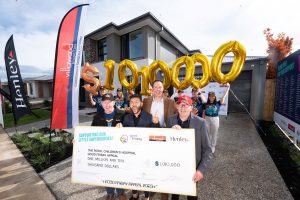 Villawood's 2023 Good Friday Appeal Charity Auction Home at Coridale, Lara fetched a fantastic $1,010,000 under the hammer.
Ali Bandari, 25, of Geelong, stormed home in a thrilling 19-bid contest to crack the million-dollar barrier and secure the stunning Henley Electra 35 double-storey home.
Every cent raised at the auction, which drew hundreds of onlookers street party, will go to the Royal Children's Hospital.
The 4BR, 7-star, fully furnished home is on a prime 512sqm lot directly opposite Villawood's Club Coridale resort community hub.
Once again, the GFA Charity Home Auction was a brilliant result for The Royal Children's – thanks to the superb efforts of so many tradies, suppliers and volunteers who donated their skills, materials and time to this tremendous cause.
The winning bidder was thrilled with the outcome and is now not only the proud owners of a beautiful family home but also know that all proceeds go to The Royal Children's Hospital.
"I'm thrilled, I'm very excited, I couldn't believe it," Ali said after the auction. "I was thinking it would go for around $920K or maybe a maximum of $950K. But it was all for such a good cause so I went a bit more."
Good Friday Appeal board member Peter Clark said the auction outcome was a "great result" for the Royal Children's Hospital.
"We're so grateful for the efforts of Henley and Villawood and so many tradies and suppliers and others who have supported the auction and the appeal," he said. "It's an enormous assistance to the quality of care the Royal Children's is able to provide."
The auction was the highlight of a memorable day out for the local families, as well as Henley and Villawood staff, who enjoyed a street party spectacular complete with live entertainment, face-painting, kids rides, roaming dinosaurs, the Dulux Dog, sausage sizzle, coffee cart, food and ice cream trucks.
The 2023 auction marked Henley's 31st year of building and donating houses to the Good Friday Appeal, raising more than $19.2M to date. It is the 14th year of Villawood donating land, with $10.4M raised over the journey.
Villawood Properties CEO Alan Miller said the auction result was great for everyone involved.
"It's a great privilege to host a live auction like this and achieve such a fantastic result. The crowd was on board with us everyone understands and appreciates the great effort that's gone into building the house," he said.
"It's been an exciting event and really highlighted what the Good Friday Appeal is all about. There's the money raised, which goes to a really important cause, but there's also a tremendous amount of goodwill we've seen in the months of preparation leading up to the appeal and today too of course with so many people rattling tins for the Royal Children's Hospital."